Helix Sun Shield / Splash Guard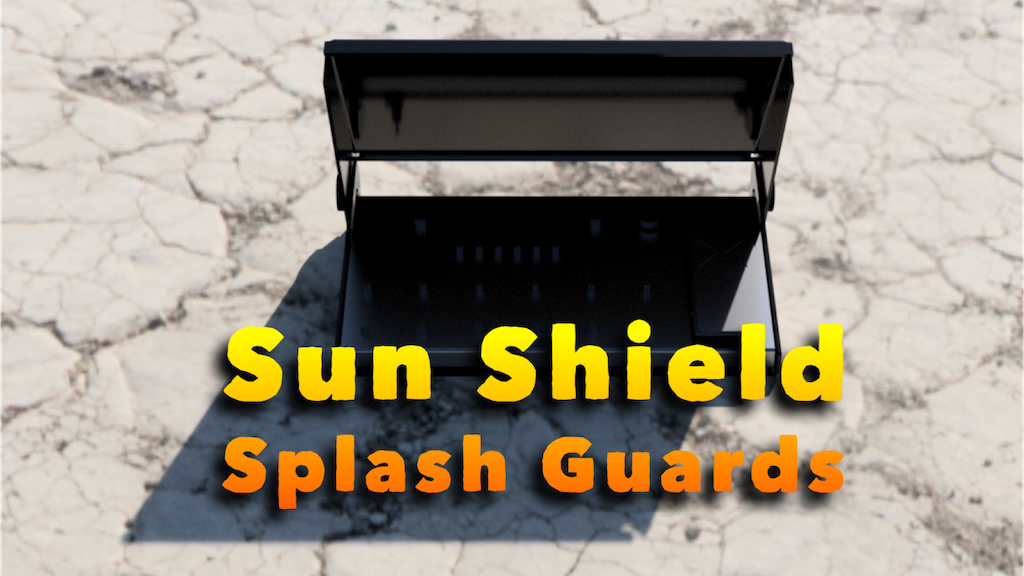 Helix Sun Shield / Splash Guard
🔴See "Additional Info +" below for VIDEOS (coming)
🌎 INTERNATIONAL SHIPPING INFO (See Shipping and Customer Satisfaction Page)
THIS ITEM'S INTERNATIONAL SHIPPING CODE IS: "F"
🚧 IF YOU PURCHASE MORE ITEMS - CHOOSE THE HIGHEST SHIPPING CODE FOR YOUR ORDER
Description:
ORDER TODAY!
FIRST COME FIRST SERVED
SUN SHIELD / SPLASH GUARD FOR MODELERS
Line 6 Helix Floor
Line 6 Helix LT
Line 6 Helix Control
Custom Requests
Shades sunlight – enhances the view of screens.
Helps prevent sunlight from hitting the optical expression pedal sensor.

Fully adjustable with "Tension Knobs" on each side.

Cable connection protection. (wild clientele stepping on stage)

Splash protection features. (wild clientele spilling their drinks)

Protects knobs, buttons, and screens when closed.

Band Brandable surface area on the top.

Custom color skins available. (on top cover – added charge) Just contact Chad
Professionally Engineered.
STRONG ABS BLACK PLASTIC

Tough Stainless Steel Hardware

Hand built right here in the USA.

Orders Price is $125.00 plus Shipping and Handling.
🚨🚨 NO, THESE DO NOT FIT INTO THE HELIX BACKPACK
🚨NOTE: PLEASE ALLOW UP TO 1 TO 2 WEEKS FOR SHIPMENT.
OFTEN SHIPPED NEXT WEEK AFTER ORDER. INTERNATIONAL - MAY BE LONGER DUE TO CUSTOMS - AND THERE MAY BE ADDED TAX FROM YOUR COUNTRY.
YOU ARE SOLELY RESPONSIBLE FOR THE APPLICATION, CARE, AND REMOVAL.

YOU ARE SOLELY RESPONSIBLE PERIOD.

WE GUARANTEE YOU WILL GET THE PRODUCT YOU ORDER.

VIDEO IN ADDITIONAL INFO

EASY INSTALLATION

WILL NOT VOID WARRANTY

Any questions prior to purchase contact:
Chad Boston
INFO@GEARBYCEBA.COM